Country Roads of Portugal - Small Group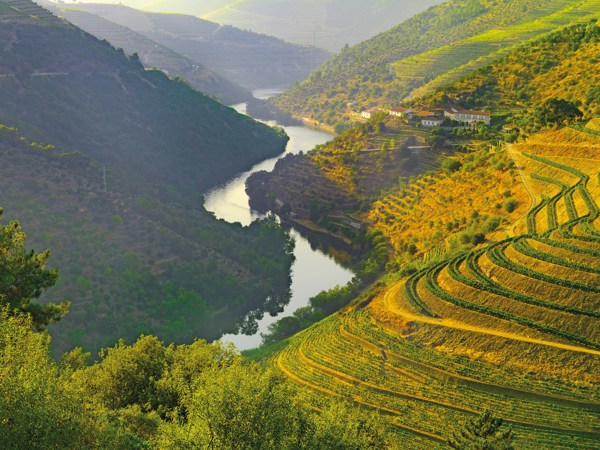 Country Roads Of Portugal - Small Group
Tantalize your senses during this 11-day guided tour through Portugal. In Lisbon, a Local Expert will show you the historic downtown and the finest square in the city, Terreiro do Paço. From the hilltop perch of Monsaraz, see across the Spanish plains to Alqueva Lake - and meet a local boat captain, who will regale you with tales of water adventures during a cruise on its calm waters. In Tomar, see the Templar Castle, and explore its awe-inspiring rotunda with a Local Expert. Indulge in a farm-to-table dinner in Douro Valley's renowned winery Quinta da Roêda that will feature locally sourced ingredients, and taste a port produced onsite. Stroll Portugal's second city, Porto, a World Heritage town, and relax in your five-star hotel in the city's picturesque historic district.
Dining Summary
4 Dinner with Wine (DW)
10 Breakfast (B)
1 Lunch with Wine (LW)
Choice Highlights
Choose between two carefully selected activities
Porto: Enjoy a panoramic drive through the city streets with a Local Expert.
Porto: Visit the São Bento Railway Station and walk on the Dom Luis I Bridge, which spans across the River Duoro connecting the cities of Porto and Vila Nova de Gaia.
Additional Included Highlights
: Personal radio headsets give you the freedom to wander during visits to famous highlights, without missing any of your Local Expert's fascinating commentary.
: Hotel and restaurant tips are included - you'll never have to worry about how much to give, nor search for foreign currency. We also include all taxes and porterage charges at hotels.
: We carry your bags for you and promptly deliver them to your hotel door.
: From time to time, your Travel Director will delight you with an Insight Flourish, which is a local specialty representing the destination.
: Stay connected with friends and family with our complimentary coach and hotel Wi-Fi (where available).
: If your arrival and/or departure flights are as per the itinerary start and end dates, then transfers are available at scheduled times. If your flights are outside these times, or you have booked additional nights accommodation with Insight Vacations, you may purchase transfers or make your own way from/to the airport.
Authentic Dining
Lisbon: Join your Travel Director at 18:00 for a Welcome Dinner at a local restaurant and the opportunity to mingle with your fellow travellers.
Monsaraz: Enjoy a memorable Alentejo Highlight Lunch at local restaurant Sem Fim, once an olive mill. Indulge in dish-after-dish of the tastiest tapas in a vibrant setting.
Pinhao: Enjoy a wonderful farm-to-table dinner, freshly prepared from locally sourced ingredients.
Porto: Shared experiences and memories are often the foundation for special bonds and friendships. Toast your travels with wine and good cheer during your Celebration Dinner at a restaurant in Porto, devoted to the enjoyment of regional cooking.
Insight Experiences
Monsaraz: Join a local boat captain for a tranquil cruise of Lake Alqueva. Relax and enjoy calming waters, picturesque views and tales of river life.
Make Travel Matter
Évora: During a wine tasting session, appreciate the delicate yet complex nuances of Alentejo wine, and learn how the Relvas family has been managing to keep low water consumption, reforestation of indigenous trees, and providing scholarships to children of the village. This experience advances United Nations' Sustainable Development Goal 12: Responsible Consumption and production. With a 30% reduction in water use and innovative water management systems in place, they have been integrating science technology to ensure genuine production processes in all their activities.
Top Rated Highlights
Lisbon: Discover more of Belem Quarter as you delight in a taste of the famous Portuguese delicacy, Pastéis de Belém before visiting Jerónimos Monastery with its beautiful Manueline architecture, reflecting Portugal's trade over the centuries and UNESCO World Heritage Site.
Lisbon: Explore with your Local Expert, from the Lower Town, beneath the hilltop Bairro Alto to the Terreiro do Paco. Visit the Belém Quarter to see the modern Monument to the Discoveries and the medieval Belém Tower.
Lagos: Explore this coastal town nestled on Meia Praia, with your Travel Director.
Évora: Explore this UNESCO World Heritage Site guided by your Local Expert and see the famous Roman Temple. While sightseeing, witness the fascinating cathedral and be charmed by its mix of Romanesque and Gothic architecture.
Évora: With your Travel Director explore the ancient city of Évora and visit the fascinating Capela dos Ossos, meaning the Chapel of Bones, a chapel decorated with human remains.
Monsaraz: Surrounded by cork oaks and vineyards, wander through the castle ruins to admire the incredible view over the Spanish plains that contrast with the blue of one of Europe's largest artificial lakes.
Tomar: Dominating the town is the UNESCO World Heritage Site of Templar Castle and the Convent of Christ. During your visit with a Local Expert, see the Manueline Window and follow the story of the mysterious Knights Templar.
Tomar: Learn about the history of the town through its architectural influences as you take a tour guided by a Local Expert.
Tomar: Guided by your Local Expert, visit the Synagogue of Tomar, one of the best preserved medieval synagogues in Portugal.
Coimbra: Guided by your Local expert, head through Old Town and pass by the Old Cathedral and the Almedina neighbourhood.
Coimbra: With a Local Expert, visit the University and witness the triumphal arches, painted ceilings, golden flourishes and walls of ancient tomes.
With Insight, you'll enjoy the best experiences your destination has to offer – all included within one price. You'll travel in business class elegance to quality, handpicked hotels in the best locations on our luxury coaches. They're specially configured with fewer seats to offer 100% more legroom than standard touring coaches.
You'll meet new people, too. Whether you join us on your own, as a couple, or with friends and family, the small group that you travel with will share your pa
...